Manage all your contracts with C1's Contract Management System
In the last few blogs, we discussed some important phases of e-Procurement function – starting from Indent management to Auction management, vendor selection, and tender award. Today we will discuss the last phase of this blog series. Phase 4 – which deals with contract management and delivery fulfillment in the end.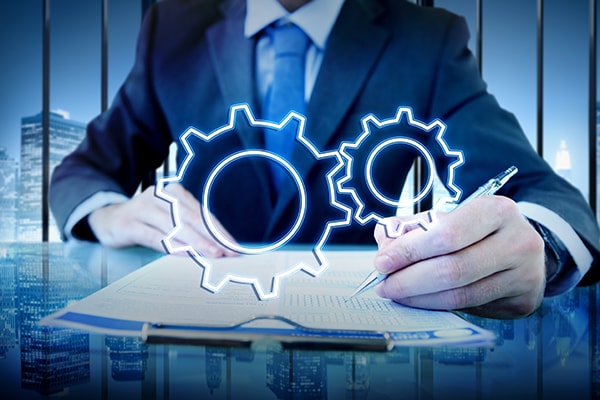 1) Contract Management
Contract management is the process of managing contracts that are made as part of the legal documentation of establishing work relationships with clients, suppliers, or even partners. Contract management involves negotiating legal terms and conditions. It also requires the declaration of conformity with the terms and conditions, as well as the documenting and agreeing on any adjustments. It is the method of efficiently handling, implementing, and evaluating contract management. It is one of the most important parts of the process which requires a sheer focus on due diligence and with the right strategy, favorable terms and conditions can be negotiated. Some of the various features of contract management are transactional & compliance advantages, negotiation benefits, easy access to contract agreements, well-managed and organized information database, and it also helps in providing meaningful insights for smarter spending.
7 foundational metrics of contract-management:
Creation: Although many organizations rely on standard contracts, they require to be created in the first place and often require updates as negotiations progress.
Negotiation: Arrangements to ensure both sides have the best possible deal.
Adherence: to contracts and all the parts and purposes thereof.
Service Level Agreements(SLA) and Key Performance Indicators (KPI): are provided for the management of the vendor's daily performance.
Monitoring Changes: It may be important when the partnership changes and problems arise.
Documentation: Any improvements that may have been settled upon.
Analysis: benefits accruing from the deal, which may be possible.
Benefits
Contract management helps to standardize processes and procedures, increases spend visibility, improves compliance, builds a solid foundation for spend and performance analysis, rebate management and helps to reduce maverick spending. It makes contract creation easier and helps in real-time collaboration during the contracting process within various divisions/individuals within an organization for the creation, management, and contract generation. It enables audit-ability of the entire contract life cycle available to all business users. It also increases collaboration and visibility between business users.
2) E-Invoicing
E-Invoicing is also referred to as electronic billing, it's used to present and monitor transactional documents between buyer and supplier while ensuring the terms of their trading agreements being met. These documents include invoices, purchase orders, debit notes, credit notes, payment terms and instructions, and remittance slips. Once the order is fulfilled, the supplier converts the PO to an invoice and send a digital invoice to the buyer to verify and make the payment online. It accelerates approval cycles, provides easy access to documents, increases efficiency in digital business processes, and reduces time, efforts, and costs of communication between suppliers and customers.
3) Delivery Fulfillment
The last step of the e-procurement process deals with packaging, transportation, and shipping the order safely and timely to the requested location as per the contract/ deal. The fundamental feature of delivery fulfillment helps in live tracking of the shipment.
Challenges
Numerous challenges that lurk around contract management are as followed:
Decreasing contract cycle time
Critical legal information to become fragmented and exposed, therefore, privacy and security have to be a top priority.
Real-time tracking and alert system robustness.
Increase risk quotients across the legal, market, and procurement ROI (return-on-investment) risk quotient.
Lack of visibility around contracts.
Inability to make changes, Inconsistency, and slow approvals
How we can help
As we all know, the importance of contract management in the procurement process. Contract Management software enables procurement professionals to discover and exploit the best opportunities and to implement the best contracts. C1 India provides a comprehensive Contract Management solution, it's a single unified software platform allowing users to manage every phase of contract development from initiation through negotiation, approval, execution, renewal, and expiry with user-defined access controls. Our robust solution provides alerts/reminders to track contract expiry, contract utilization, and off-contract spending flexible approval workflow. Some of our key features are increased visibility, improved contract compliance, increased savings, performance capture, and ultimately better negotiation results.