What Is Supplier Management and Why Is It Important?
By Sanjay Puri, CEO, C1 India

We are thrilled to bring before you an exclusive in-depth blog series on supplier management. Throughout the series, we'll touch upon various intricacies of supplier management from a brief overview to supplier performance evaluations, risk management, and certain best practices.
To begin with let's start with understanding supplier management.
What is supplier management?

"All business processes and actions that engage with a supplier's entire lifecycle for an organisation are referred to as supplier management."

Given the intricacy of business relationships, the diversity of suppliers involved with organizations, and their overwhelming importance further highlights the need for supplier management. It also aids in the evaluation of supplier performance and managing supplier-related risks, in addition to vendor identification, selection, and building lasting business relationships.
Why do we need supplier management?
When it comes to determining why enterprises require supplier management, there are two key elements to take into account:


These two parameters collectively emphasise the sole reason behind the need for supplier management to ensure that we derive the maximum value from suppliers for the essential requirement(s), considering the resources invested in them. This points towards the criticality of tracking and measuring supplier's performance in order to get the most out of their services.
The moment an organisation builds a transparent connection with their suppliers through regular communication and feedback, it aids in identifying areas for development and providing swift remedies. To further understand the need and importance of supplier management let's explore some key factors driving the demand for the tool.
Fundamental factors driving Supplier Management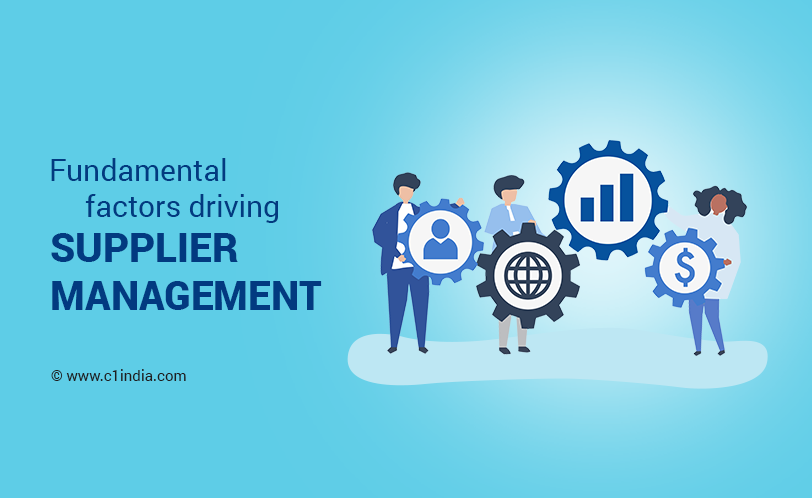 A few significant elements that are currently leading the growth in demand for supplier management have been identified as:
Increasing operational scale necessitates the use of both local and global suppliers.
The growing complexity of supply chains has also resulted in a deeper supplier base for the organisations.
Ever-rising supply chain risks, which can expose firms to performance failure if their involved suppliers are not managed, monitored, and evaluated properly.
Establishing long-term supplier relationships that will empower suppliers and organisations to genuinely engage and generate synergies for mutual and maximised performance for the long run.
Utilizing supplier relationships to ensure unhampered business performance in times of organizational or external crisis.
Supplier data management enables businesses to streamline critical supplier information and generate actionable insights for better management.
Increasing competition means that businesses must identify and enhance parts of their operations that will provide them with a competitive advantage.
Aligning supplier performance to industry benchmarks so that enterprises can achieve best-in-class outcomes.
Now as we are aware of the need for supplier management, let's look at how it can benefit enterprises:
Effective management of the ever-growing supplier base - The ever-increasing supplier base is a consequence of a myriad of factors like globalization, rising supply chain complexities, and intensified scale of operations, etc due to which management becomes difficult and a well-structured supplier management system comes in handy.
Achieve cost savings and quality control - Adopting best practices and attaining industry benchmarks enable enterprises to identify saving opportunities and ensure standardized output, which ultimately impacts and contributes to the bottom line.
Enhance supply chain transparency - An efficient supplier management system streamlines value supplier data and helps in the real-time dissemination of supplier-related data to assess the performance and design strategies to combat any inefficiencies. Thus, improving transparency throughout.
Complete compliance to relevant parameters - A proper system helps in ensuring the fulfilment of a specific set of parameters drawn for suppliers and meticulously track them for deriving maximum value.
Evaluating supplier performance - The pre-set KPIs with some level of automation helps in deriving key actionable insights and enables managers to efficiently analyze supplier base and their performance.
Creating development programs to assist suppliers - Post evaluations and identified improvement areas the organization can help their suppliers with certain development programs for some crucial/long-term supply partners to ensure business sustainability and continuity.
Leverage supplier relationship management - An efficient system also helps in building long-term collaborative partnerships based on relevancy, past performances, and trust which can be leveraged to bank on future opportunities for business growth.
Manage and mitigate supplier-related risks - Managing risks are as important as evaluating and maintaining suppliers since it is critically important to combat ever-growing supplier relation complexities, dependencies, and disruptions surrounding the supply chain industry. Risk management helps in planning and designing remedial plans to face future uncertainties and reduce supplier-related risks.
There are umpteen benefits of supplier management and this is only achievable due to the level of standardization it brings in managing suppliers and its efficient tracking ability. The process of supplier management is quite broad, which is why it is often curated specifically as per every organization's requirements. But a general process that can be widely observed and have been adopted, is as followed -
The most amazing ability of a supplier management system originates from the high level of automation it brings to the table. Which enables ease in managing suppliers, storing data, tracking contract adherence, and mitigating various associated risks.
As we just explored supplier management in-depth, there are a few more segments within it, which we'll publish in our upcoming blogs. So stay tuned and stay connected.